MyMoosie is...
A domestic short-haired brown tabby.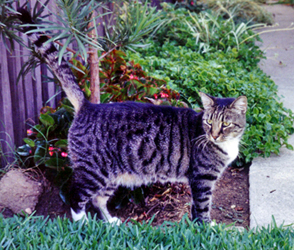 He was my cat when I was growing up and the first username I ever used when I joined the internet community was "moosie". It just kind of stuck and evolved from there.

MyMoosie - the person behind the site - is...
Just a gal who longs to be roaming around the islands.

When I'm not traveling or daydreaming of traveling I...
Work a regular job as an I.T. Project Manager for a major telecommunications company. I gotta pay for my travel and techy gadget addictions since I don't have a trust fund!

My favorite activities in the islands are...
Snorkeling and watching marine life go about their daily life
Limin' in a hammock under de coconut tree
Eating and sampling the local cuisine ... Does that count as an activity?


My favorite drinks are...
Honest Tea's Peach-oo-la-long! I drink this stuff everyday!!
I also love Ting, Sunshine's Killer Bee, and a good capuccino

When I am not traveling I...
Waste countless of hours surfing the web reading travel forums and shopping online

I am a ______ junkie
Digital camera... 7 at last count after giving away a couple... and always drooling over the newer models.
Ok, I'm also a handbag junkie... although I prefer only a particular brand that has cute but classic designs. Sadly she's sold the company to a major brand and it's no longer the same without her creative designs.

If I could only have 1 pair of shoes, it would be...
A pair of comfy flip flops! What can I say, I'm a flip-flops kind of gal.

My favorite books are...
An Embarrassment of Mangoes, and A Trip to the Beach
Rum Reggae's Caribbean guide book ... funny as hell and more along my travel style

My passion in life are...
Besides traveling and experiencing new places... Animals. I'm very passionate about animals, but not the slithering kind. Not a big fan of those.

Some of my favorite travel-related sites are...
Grenada Travel Forum - A fantastic resource for Grenada info with a number of fellow-Grenada addicts
Grenada Beaches - A great site for planning your travels to Grenada, with insights to some hidden gems around the island.
Chronicles of a Shoemaker's Daughter - A fellow island traveler's blog about her travel adventures and life in general
NBH Travel - The site that inspired me to write my own trip reports! If only I could be as half-adventurous as they are...