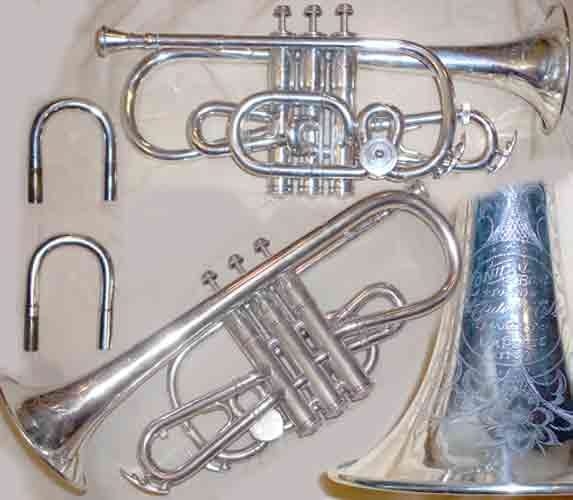 Bell reads " CONICAL BORE / PAT'D / E A Couturier Co. Ltd / - MAKERS - / LA PORTE / -IND- " , "S" bore on second valve.

Couturier was a well known soloist at the turn of the century, though not well recorded. He first worked with Holton on the "Couturier Model", then with York, who more closely followed his ideas of cornet construction. In 1916 he and other investors opened their own business, "E. A. Couturier Co., Ltd.," with the intention of building instruments using his continuous conical bore patent. This cornet uses a minimum of cylindrical tubing.

There are three different tuning slides, each to be used when necessary to remove the longer slides needed for high/low pitch, for example. The valve tubing has no slides at all, with the performer expected to make the adjustments required when performing by lipping up or down with the deep mouthpiece .

An 'A' valve is provided, but again, there are no adjustments for playing in 'A' that can be moved on any of the horn, keeping true to the conical bore.

The firm was bought by Lyon & Healy late in 1923, and production at LaPorte ended under Holton in 1929.
This horn came from an estate in Ranger, Texas.