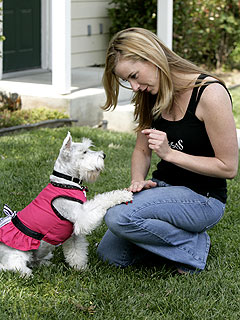 Who wants a biscuit? Make that, who wants $250,000 dollars?
Greatest American Dog, debuting Thursday (July 10 at 8 p.m. ET on CBS), is the canine answer to the reality talent competition craze, bringing twelve owner-dog teams together to compete in challenges to "put the owners' ability to train their dogs to the test." Each week one team, determined by a panel of canine critics, will be eliminated until the final team will take home the $250,000 prize and wear the title of the Greatest American Dog. Although it might be hard to pick a favorite — they're all so cute! — get to know four top dogs and their proud owners. –Pamela Warrick and Madeleine Desmond
Beacon
According to owner Brandy Yant of Irvine, Calif., her miniature schnauzer is "a tomboy who dresses like a girl" and refuses to wear blue. Beacon's favorite treat is to smell the flowers at the local garden store. But this girly-girl doesn't mind getting sweaty. "She's really good at jumping hurdles," Yant brags. But no dog is perfect! "She was the first to poop in the house!" Brandy admits of her pooch, whose middle name is Marie.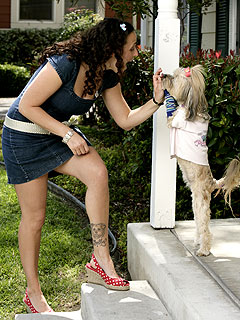 Bella Starlet
Beth Joy Knutsen of New York City is a little more attached to her dog than most people. Not only does she have a tattoo of her Chihuaha-lab mix, Bella Starlet, on her ankle, she tells PEOPLE, "Bella is my soulmate." And a star in the N.Y.C. pet community, says Knutsen, who is her publicist and manager. "In some ways, she's like Miss America. And when it comes to manners, she is so paw-lite."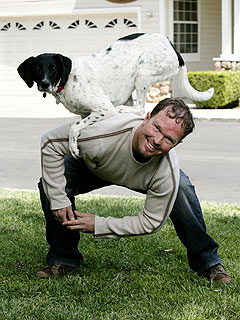 Galaxy
Bella's opposite might be Galaxy, a low-maintenance and athletic English pointer-Border collie mix. Galaxy's owner is J.D. Platt of Bend, Ore., who runs K9 Kings Entertainment, a traveling show with 11 performing dogs. "As for dressing up dogs in frilly suits and pretty ribbons, there's a time and a place for that and it's not here," Platt says. "If it's raining hard, she might get a Gortex coat. But this is a competition, not a fashion show."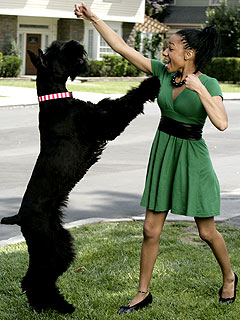 Kenji
If it looks like owner Elan Hagan of Portland, Ore., is fighting with her dog, she just might be. Kenji, a 14-month-old giant schnauzer, is the biggest dog in the competition. She's also a handful. "My dog is as tall as I am but she's still a puppy," says Hagen. "Discipline is very important because these dogs are bred to protect … I'm having to manhandle her more than the other [contestants]." But Kenji also gets rewarded with trips to doggy day care and her favorite treat — cheese!

Cliff Lipson/CBS